Posted by Matthew Wild on November 3 2020
A new version of the Android app landed in Google Play and F-Droid this week. Snikket for Android 2.9.0 is based on Conversations 2.9.0 and sees a number of new features and improvements:
Audio/video call improvements
Firstly, there is now the option to leave a voice message if the person you are calling does not answer or is busy. Simply press the green voicemail button to record a message!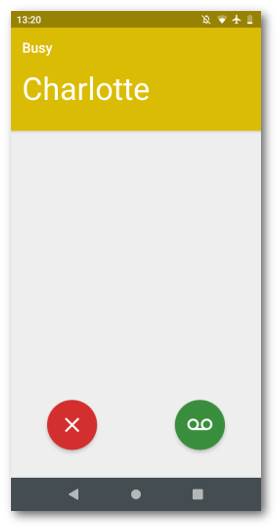 There are also many small fixes and improvements, such as the ability to switch back to the chat view during the call, and using the loudspeaker for dial tone and busy tones when making a video call. Finally, a small number of specific devices produced echo during calls, this is now fixed.
Message search
As well as searching for messages across all your conversations, you can now also search within just a specific conversation. Simply go to the conversation you want to search in, and choose 'Search messages' from the conversation menu.
Notifications
A notification has been added when message delivery fails, so you know if your contact did not receive a message, even if you aren't actively looking at their conversation. A bug was also fixed that meant notifications sometimes wouldn't be shown in some circumstances.
Support for GPX files
If you're a regular trekker, this one will be of interest to you. Although sharing and receiving logs of travels via GPX files was always possible in previous versions, they are now automatically identified and show up with a friendly icon. With a single tap you can easily open them in the app of your choice, such as OSMAnd or Trekarta (both open-source and available on F-Droid!).
Performance and bug fixes
Some other changes in this release include making it much quicker to restore your account from a backup file, and a fix for a bug that made it impossible to log in when your password included certain special characters.
That's all for now. Grab version 2.9.0 of the Snikket app from F-Droid or Google Play!
As always, the Snikket app requires an invite or account on a Snikket service to get started. If you're new to Snikket, learn more about the Snikket app to find out how to get started.